This has to be one of the hardest events I've ever done. I can't think of any event that has left my body more sore and wrecked than this little 34 mile hike.

I drove up to North Park the night before. Despite the website's warning that there isn't any overnight camping in the park, by 9:30 there were already a few cars in the lot. I parked the Westy, pulled the roadside curtains, replied to a few emails on the Q, and hit the sack. I woke up before the alarm to the sound of people directing cars into the lot. 3:55am... get dressed, get everything packed up and lock up the Westy. A few minutes later the buses start pulling up to take us to the start at Harrison hills park. I jump on the first bus and they pack us in tight. I doze off to the flash frozen still lifes outside, each produced by the rooftop strobe on the bus.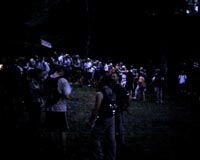 Arriving at the start I head up to registration only to find that they've mistakenly given my original number to someone else. D'oh! They give me a new number... 600. Good round number, I should be able to remember that. Every one of the 600 hikers is given a small RFID key fob which will be scanned at each of the four CPs and at the finish. Cool. Head over to the bathroom and get started.

Within the first mile about 40 of us miss a turn. So much for the idea of just following the guy in front of me! This won't be the first turn I'll miss today, nor will it be the worst, but none of them were really too bad.

Before CP1 the real Rachel Carson Trail begins to reveal itself. Like many of the suburban connector trails coming into existence, this one was designed by following existing utility right of ways. How many places have a trail which is locally referred to as the Power Line Trail? I think just about everyone has one. Anyway, the Rachel Carson follows power and gas rights of way for much of its length. Open sunny areas with steep climbs and steep drops.

The other big trait of the Rachel Carson is an outgrowth of the fact that the trail was designed and is maintained by a volunteer organization with minimal funding. Many stretches of the trail simply haven't been designed or built as sustainable trail. These sections consist of very steep, deeply-eroded doubletrack that follows the fall line of the hill. The connector is simply using the power line maintenance roads, and these were never really designed as trails and tend to just shoot straight up or down the fall line, leading to massive erosion. Eventually, if enough volunteers adopt sections of trail, or if the Rachel Carson Trails Conservancy can raise enough money, many of these trails might look as good as the ones in the westernmost 8 mile section near North Park.

I arrived at several backups as people make their way down some of the incredibly steep sections. With over 9500 feet of cumulative climbing, when the Rachel Carson isn't going straight down, it's going straight up. the backups begin to subside after the first checkpoint at mile 6.9 as people begin to stretch out. I down the first of my crushed and sticky peanut butter and jelly sandwiches, and eat a few Swedish Fish while walking.

I'm still moving pretty quickly, jogging down all the hills, and passing everyone I come upon. Earlier I had been passed by some people running, but by this point we're all starting to find our pace. During that day I'll pass and be passed by the same people repeatedly, especially now that I'm somewhat into a group all hiking a similar pace. There's Green Backpack and his two buddies, Orange Pants, 53, Blue Bandana, and a bunch of others I'd simply recall by some unique piece of clothing. The same way I remember cyclists ina race by what they're riding.

Right before mile 12 I come upon what had to be the steepest descent of the day, if this had snow on it, I 'd be afraid to snowboard it. Dropping into a little town I stretch, change my socks, and pick up a Sobe at the Sheetz the hike runs past. From there it's up a road out of town, and a left onto what looks to be the steepest ascent of the day. I feel like I'm climbing a muddy wall and have to go to all fours to keep from sliding back at least twice.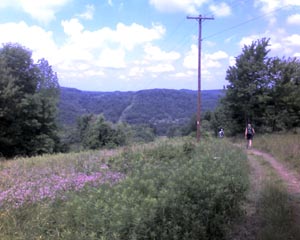 I grab my second PB&J and refill the camelbak at CP2. Why did I even bring food? The checkpoints are wonderfully stocks with peanut butter, jelly, bread, candy, Rice Krispy Treats, Oreos... and here I am carrying a few pounds of food on my back. Oh well. I also take the opportunity to change my shirt.

Ther were some nice sections of trail right after this CP, up on the bluffs overlooking the river and Lower Burrell's industrial downtown. I'm passed by a few guys, kids really, who are simply moving. I only remember this because one guy's "backpack" was an orange plastic shopping bag with string for straps. Hardcore.

Sometime between CP2 and CP3 I was passed by Smartwool Socks for the first time. This girl would end up passing me, and being passed by me about 15 times. Definitely faster, she was with a friend who was slower. So she'd charge up a hill, pass me, and then I'd pass her as she waited. "Hello." "Hello." "Hello Again." "Hello" ... I was waiting for her to ask if I liked her hat... C'mon, you remember "Go Dog Go", right?

Coming into CP 3 was a cary downhill, less because of the steepness than the fact that it was loose, and the clay mud was slick. At this point most of my descents were being taken as a baby-step jog. Leaning back I'd take quick, tiny steps and try to keep the pace consistent. Well one slip on this final descent and I tried to catch myself with a longer step, which worked, but by then I couldn't slow down. The last 20 yards were taken at a a full, out of control run down the hill. The incident scared me a bit because the last thing I need is another injury. Right now between my the pinch in my back and the overuse thing in my knee, I'm feeling old enough, I don't need to add something new.

Another CP, another PB&J... as well as a refill on the water/Gatorade mix and a Rice Krispy Treat. Off towards Dorseyville. Halfway into this section Smartwool Socks, her friend and I made a little navigation error and went a hundred yards up this very steep, loose slope before someone called out from below that we had missed the turn. D'oh! Back down. By this time it wasn't the climbs that were bothering me at all, the descents wer really aggravating the knee and some blisters had started up on both feet.

Luckily, by making the turn we had missed we went back into the glorious shade. Since a little before CP2 the sun had been out and the temps were up in the 80s with lots of humidity. During this section I met Ralph who I chatted with for quite a while. We ran into this girl from CMU, who, it turns out, has a boyfriend at my alma mater, Rutgers. The three of us met a guy who'd already hiked that section, and the four of us ended up chatting away the next three miles, all the way into CP4.

By CP4 I was hurting and ready for the whole ordeal to be over. I'd rolled my ankle pretty nicely on a loose descent a few miles before CP4 and was walking okay, but it was sore and swelling. Icing it would be smart but wasn't really an option, eh? Anyway, I ate my last PB&J, some Jerky for the salt, changed my socks and stretched a bit and got back on the trail. Only 8 miles to go.

About halfway to the finish I picked up Jim, a 58 year old guy from near Monroeville who'd been having some problems with cramps. I gave him the rest of my Jerky so he could keep his sodium up and we ended up hiking the last four together, jokingly complaining to each other the whole time. "You going to do this again?" "No way." "Me neither, no way." Smartwool Socks also passed me for the last time with about two miles to go, as well as Green Backpack, who strangely only had one of his buddies with him.

Jim had done the hike with a bunch of friends and they cheered for him as we reached the end. I got my scan, picked up my t-shirt, a Pepsi, and headed for the Westy. Done. 34.6 miles, 9678 feet of cumulative climbing, 9717 feet cumulative descending. One really long day. Will I do it again? Well...